Multimedia Service Platform and its SIP Thor variant are turnkey platforms for real-time media applications like Voice, Video, IM, File Transfer and Presence based on SIP protocol.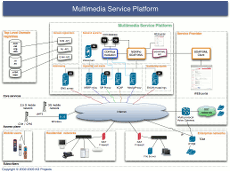 The platform is based on IETF standards that integrate the best open source software related components available on the market. The platform can be can be physically distributed across multiple data centers to serve a multi-million user-base using a state-of-the-art self-organizing network design.
The platform is used for several years in production environments with an excellent track record. The average life span of our customers is more than five years and we provide native support in English and Spanish languages.
Features
Signaling (SIP protocol)
Voice, Video and Fax (RTP media)
IM and File Transfers (MSRP media)
SIMPLE Presence (XCAP and RLS)
Multiparty Conferencing (both RTP and MSRP media)
SIP to and from XMPP Gateway (Voice, IM and Presence)
SOAP/XML remote provisioning
XMPP multimedia gateway
Class 4 and 5 telephony features
Postpaid and prepaid Accounting
Fraud control features
PSTN least cost routing
Multi-tenant partitioning
Components

Click here to download the full description of the platform.
If you wish to test the platform features you may subscribe to the SIP2SIP free service.
For purchasing go to Purchasing page