Adrian Georgescu and Dan Pascu speak at International SIP 2007 conference in Paris.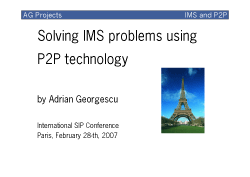 The 8th edition of the International SIP conference will take place in Paris on February 27 to March 02, 2007. SIP has evolved to become not only the protocol of choice for deploying enhanced voice and data services, it has also become the future choice of how service providers will trade voice traffic for basic calls and enhanced services.
The International SIP conference has followed this trend for seven years now, as the most important worldwide event entirely dedicated to this technology.
Following the success of the 2006 edition, Upper Side is expecting more than 300 delegates in February 2007. International SIP 2007 will be jointly organized with the WiMAX Summit.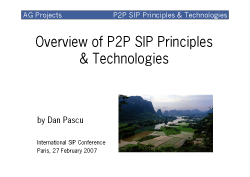 The SIP 2007 program will mainly be dedicated to IMS, Peer-to-Peer architectures, SIP mobility and deployment examples. The objective is to show that SIP is henceforth a stable and functional protocol and operators can invest in architectures and roll out services.
The program of the conference is now online.
All the proposals will be reviewed and selected by the scientific committee. Upper Side wishes to once again thank the members of the scientific committee for their invaluable aid in the presentation selection process.